Are Sleeping Bag Liners effective? and my favorite liner?
Some people call sleeping bag liners a scam while others can't go anywhere without them. So what is the truth is it worth the investment? Should you get yourself a sleeping bag liner?
Yes, sleeping bag liners do work but the effectiveness is dependent on the material and make quality. liners also keep your bag clean and help them last longer.
How Much warmth Does an avarage Sleeping Bag Liner Provide?
manifucturers claim wild numbers which are usually not the case
there are products on the market that claim as much as 32°F of warmth can be added, while others are in the lower end, around 5°F.
you usually get less than half of what is advertised, but either way, you are expected to get at least a little bit of warmth and keep your bag clean.
What liner material is best?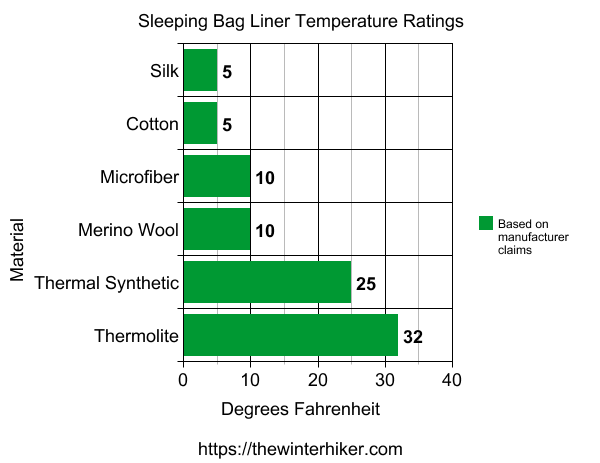 depending on what you want merino wool or microfiber/microfleece would be your best bet.
but if you want something that is lightweight and compact silk is should be your best interest
Silk
(Up to 5°F)
Soft, light, good breathability, wicks moisture and is somewhat pricey, but only adds a little warmth.
Cotton
Bulky, not as compact, confining, and with poor breathability or moisture wicking.
Microfiber / Microfleece
(5-10°F)
comfortable.
Merino Wool
(5-10°F)
Very soft and absorbs moisture, but can be a little pricey.
Thermal Synthetic
(Up to 25°F)
Warm, comfortable, breathable, and wicks away moisture. probably your best bet
My favorite sleeping bag liner
my favorite sleeping bag liner is Litume Thermolite All Season Sleeping Bag Liner(link to amazon)
This liner, can add up to 22°F / 12°C to your sleeping bag and is even warmer with the fleece liner. To trap more warm air and increase moisture wicking, Thermolite employs hollow fiber technology. It is made of the same super soft and stretchy material as many of the Sea to Summit Reactor series.
CONCLUSION: The Litume Thermolite All Season Sleeping Bag Liner is a great way to add warmth and comfort to your sleeping bag. We like how it sinches around your face, which is ideal for the winter when the air is freezing your cheeks off. The well-defined and distinct foot box area aids in keeping everything in place and untwisted, which is beneficial.
So, are Sleeping Bag Liners Worth It?
Many campers want to increase the warmth of their sleeping bags without purchasing another bag. You can put whatever else you want in your car if you're car camping at a campground, so you might be better off bringing extra clothes and blankets.
However, being able to carry whatever you want is not a luxury for a backpacker. Sleeping bag liners add extra weight, especially on longer hikes like the Appalachian Trail, and every ounce counts. Thru-hikers must carefully weigh the benefits and drawbacks of carrying a liner.
In my opinion, you shouldn't rely on a sleeping bag liner to keep you warm in cold weather, but staying warm isn't the only advantage of sleeping bag liners. Other reasons for using a liner are probably just as important.
check this article if you are a side sleeper
Sleeping Bag Liner vs base layer
You probably don't need a sleeping bag liner if you wear clean base layers to bed, such as long johns or thermal underwear. Wearing clean clothes to bed will keep your bag cleaner and will keep you warm.
I don't mind wearing extra clothes to bed if necessary. It's especially useful when I wake up in the cold morning and don't have to do much to get dressed, and another advantage of wearing base layers instead of a sleeping bag liner is that many campers become tangled in their liners or become scrunched.
How to stay Warm Without in your sleeping bag with out a liner
well are you thinking about whether a bag liner is necessary, the answer is no. There are some advantages to using one, but when it comes to staying warm, there are plenty of other options.
The first thing you should check is that you have a good sleep system. This includes using a properly rated sleeping bag and providing adequate ground insulation with a sleeping pad. Increasing your sleeping space or purchasing a thicker sleeping pad can help.
Wearing clean clothes is another important factor in staying warm inside your bag. After a day of being dirty and sweaty, changing into clean, dry clothes before going to bed will make you feel better and keep you warm and dry. Damp clothes will only rob you of your body heat.
How to make a Sleeping Bag Liner in your house
You can make your own sleeping bag liner if you are crafty and want something extra warm. I think the fleece is fantastic. The problem is that if you're hiking, a fleece liner will take up a lot of space in your pack, possibly even more than your sleeping bag.
If you just want to keep your bag clean, you can get a travel sheet for as little as $10. It wouldn't be too difficult to sew your own, though. Measure the amount of fabric needed, fold it together, and sew the bottom and sides. You could even use a standard bed sheet.
Another option is to use a military surplus poncho liner, also known as a Woobie. Woobies are similar to blankets in that they have a 100% nylon outer shell and a 100% polyester batting.